ATTENTION PARENTS! The Dermott School District's 2nd session of summer school starts tomorrow, July 5, 2021. Credit Recovery, English, Math and Writing will continue to be offered at DHS. Our counselor, Mrs. Jones, has spoken with you to let you know what you need to be on track for the upcoming school year. We are urging any high school student that is in jeopardy of NOT being on track to take advantage of this great opportunity! See you tomorrow! The doors will open at 8:00 a.m. for breakfast. #YourEducationMatters 🧡🖤🐏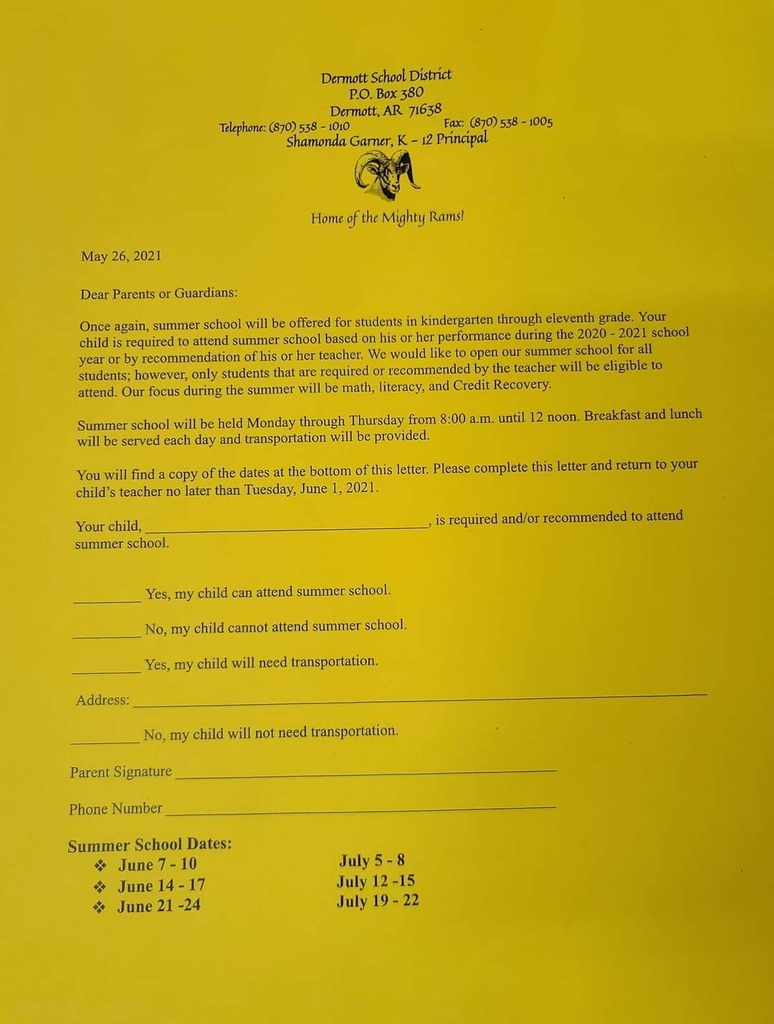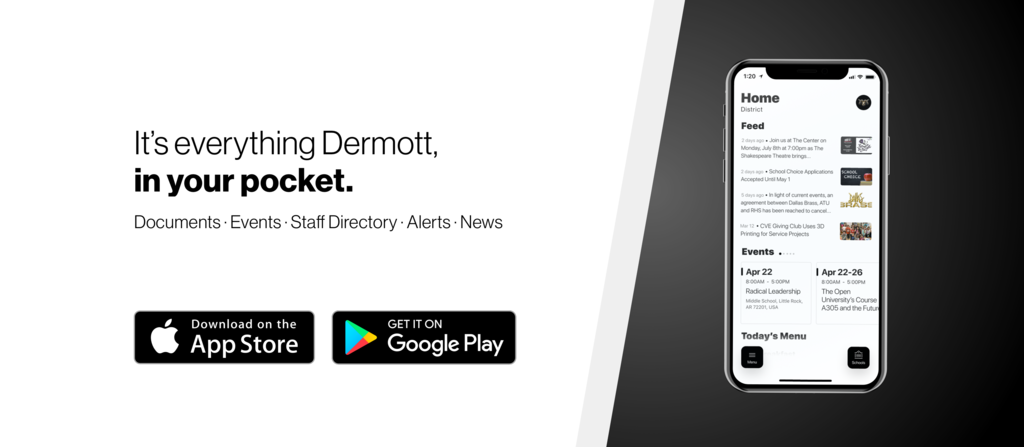 TOMORROW, Thursday, June 10, 2021...#PleaseShare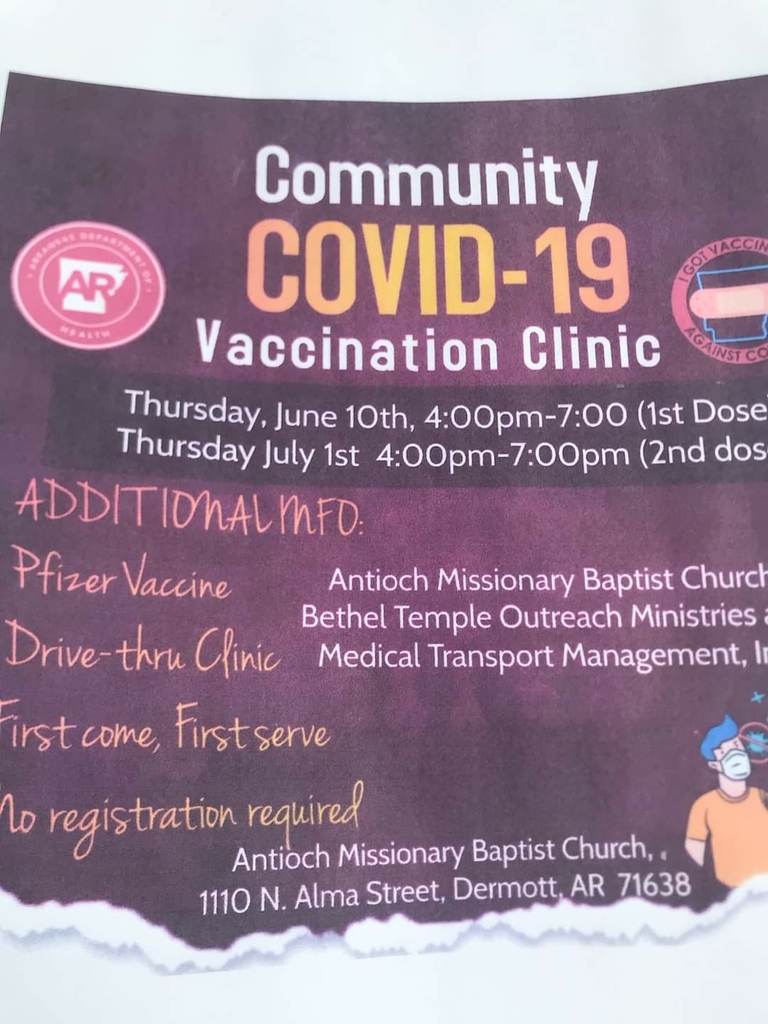 ATTENTION PARENTS! The Dermott School District is grateful to offer our students additional support this summer; however, our students in the high school have not returned their registration forms. Credit Recovery, English, Math and Writing are going to be offered at DHS. Our counselor, Mrs. Jones, has spoken with you to let you know what you need to be on track for the next school year. Stop by DHS to register tomorrow! #YourEducationMatters 🧡🖤🐏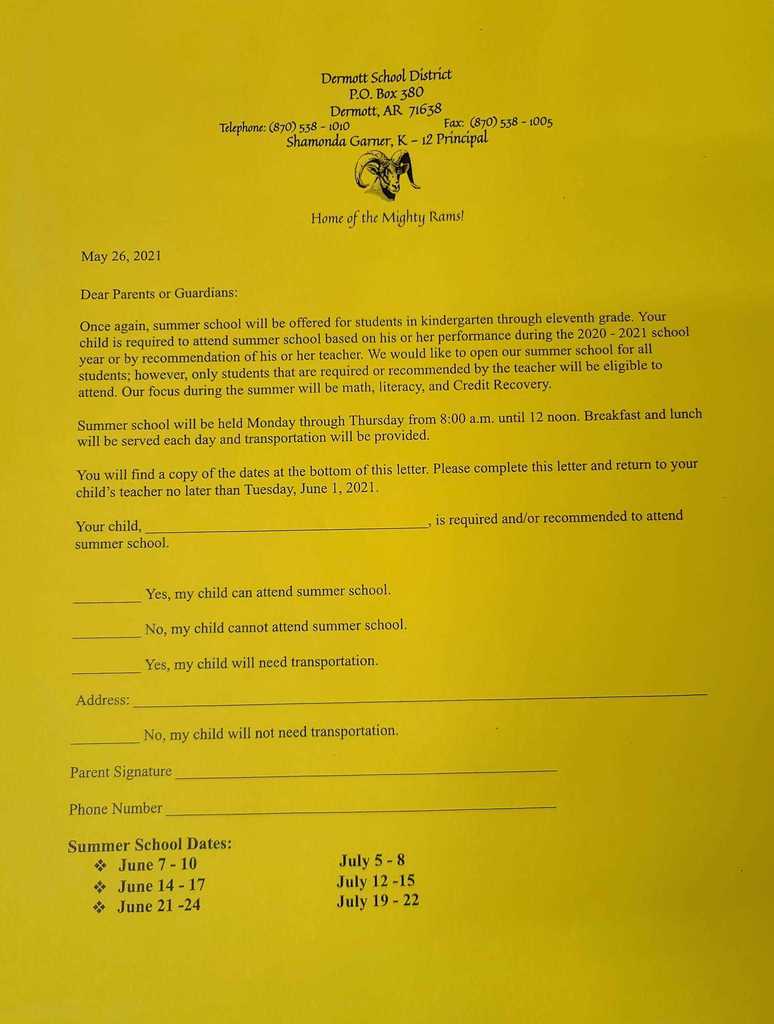 Good luck Lady Rams! Congratulations on your TWO victories Tuesday! Let's get TWO more tomorrow! Come out to support the Lady Rams! #RamProud 🧡🖤🐏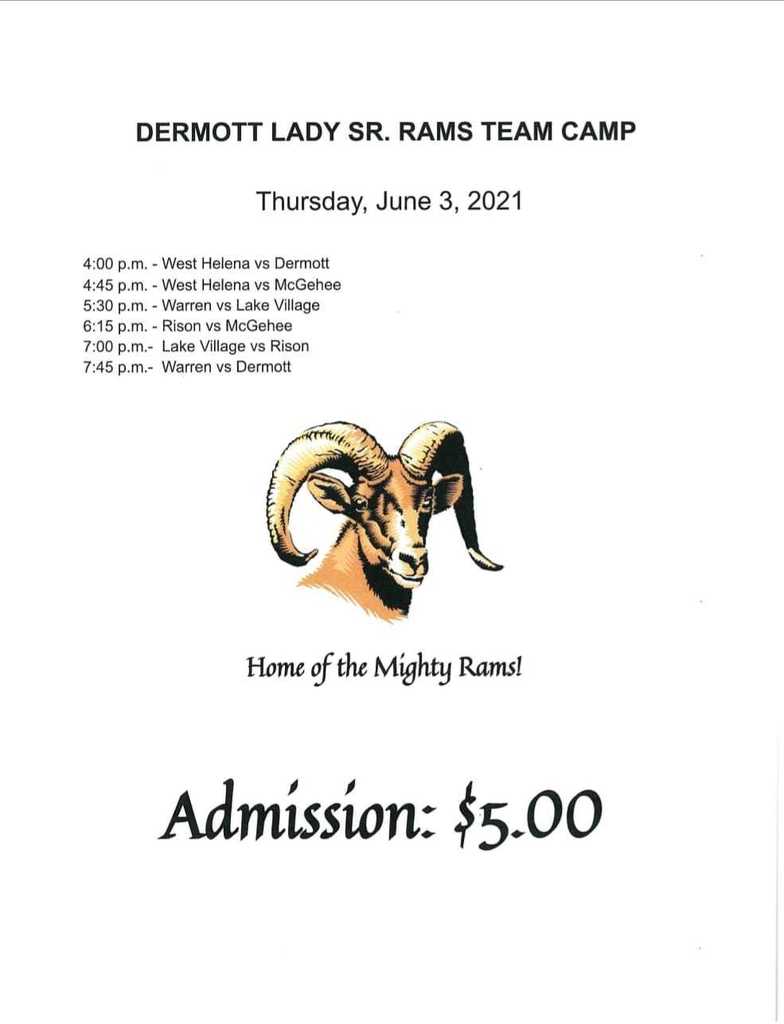 PARENTS, as of today, June 2, 2021, I have 50 graphing calculators that have NOT been turned in. These calculators were signed out to all students who took a math course in grades 7-12, Virtual or on-site. The intent was that all math students would have access to a calculator at school and at home. However, because so many calculators have not been returned, next school term students may be responsible for getting their own calculators. Please ask your child about his/her calculator and have them return it to Ms. Jordan by tomorrow, June 3, 2021. Thanks in advance for your support🧡🖤‼

Attention Seniors! The Technology Department will allow your email accounts to remain active until August 1st. After that time email accounts will be disabled, and you will no longer have access to them. If you have any content you would like to remove from your Google account, follow the steps below: 1. Create a personal Gmail account. 2. Once created, you will sign into your school email account(
firstname.lastname@dermott.k12.ar.us
) 3.Once signed into your school account, you will go to takeout.google.com/transfer. 4.Follow the on-screen instructions for transferring content (You will need access to both your personal and school email accounts at the same time.) Note: Depending on the number of files within your Google account this process could take up to a week to complete.

On May 26, the Dermott Elementary School held its Pre-K Graduation! Congratulations boys and girls! A special SHOUT OUT to Mrs. Everett and Mrs. Mary for ALL of their hard work this year! #PreKProud 🧡🖤🐏🎓 The livestream is available at the link below.
https://fb.watch/5LGfc_meL6/

On May 25, the Dermott Elementary School held its 6th Grade Graduation! Congratulations boys and girls! We are proud of you! A special SHOUT OUT to our 6th Grade team of teachers Ms. Boatner, Mr. Somervell, Mrs. Cater, and Mrs. Donaldson! #DESProud 🧡🖤🐏 The livestream is available at the link below.
https://fb.watch/5LG9lZAIDu/

The Dermott School District has the following employment opportunities for the 2021 - 2022 School Year. If you are interested in any of these positions, please complete an application and return it to the Superintendent's Office. Certified: 7-12 Science Teacher Secondary Business Teacher Learning Loss Coach-- certified (2) Applicants for certified positions except Special Education Teacher and Speech Language Pathologist must hold Valid Arkansas License or meet Arkansas Qualified Teacher (AQT) Requirements AQT Requirements for ACT 1240 Waiver Teachers; Must have a minimum of a Bachelor's Degree Must have demonstrated Content Knowledge in the subject area being taught by one of the following: 1. Passed a content area assessment approved by the State Board of Education for the subject/content/grade level the educator will teach 2. Passed a content exam which was accepted as demonstration of content knowledge for a teaching license in another state that is acceptable through reciprocity for an Arkansas teaching license 3. Has a bachelor's degree or advanced degree in the content area 4. Has a minimum of 18 college credit hours in the content area 5. Has National Board Certification in the content area 6. Has documented successful, relevant work experience in the content area to be taught, established by at least one year of employment in a specific field or occupation that required the educator to demonstrate knowledge and skills in the content area. This is to be supported by two professional letters of recommendation from the educator's employers or supervisors. Classified: Paraprofessional Other: Rural Community Alliance is advertising for Parent Mentors to serve in the Dermott School District Parent Mentor Role of the Parent Mentors To work in assigned classroom for two hours --Monday through Thursday and participate in Friday Morning trainings To spend time directly working with children, either in small groups or one on one To help create safe passage to school by participating in parent patrol To build leadership skills by getting in school and community activities Please contact the superintendent's office for more information.

On May 20th, the community of Dermott held a teacher appreciation parade. The livestream is available at the link below.
https://fb.watch/5LFYK2BHYv/


Parents, The DSD would like to inform you that we are aware of the water situation that is scheduled to take place in the city tomorrow, May 12th. We will collaborate with the City of Dermott and Mayor Donald with updates throughout the day. If we have to dismiss school, we will inform you in a timely manner. According to the City of Dermott's Facebook page, the water well at the city shop will be offline all day tomorrow to allow the contractor to move the controls to a new location. The city does not anticipate any pressure problems, but to be on the safe side, you may want to fill up a few containers of water. The moving of the controls should be completed by the close of business day at the city tomorrow. Again, the DSD will be open and we will keep you updated. #TheSchoolAndTheCityWorkingTogether #PleaseShare 🧡🖤🐏

CONGRATULATIONS! 2021-2022 Dermott Junior High Cheerleaders Cpt. LaQuirra Glass Co-Cpt. Zoei Garner Za'Ryia Wigfall Christina Jimenez Maddison Toston Layla Thrower Latashia Burks A'nya Hall #RamSpirit 🧡🖤🐏📣

CONGRATULATIONS! 2021-2022 Dermott Senior High Cheerleaders Cpt. Makaiayaha Grayer Co-Cpt. Jataiya Young Gloria Rowe Kaliyah Griffin Taneisha Danzy Dakaila Clark Janai Frazier Emari Wade Talissia Sims Kaylyn Thompson #RamSpirit 🧡🖤🐏📣

This week has been nothing short of AMAZING for the teachers and staff of DSD! A special SHOUT OUT to Mayor Walter Donald and his wife, Mrs. Bernice Donald for making things happen and providing a delicious meal for the teachers and staff at DES and DHS Thursday, May 6, 2021. Thank you for the meat trays with cheese, pickles, and olives, bread, potato chips, oatmeal pies, and drinks! Your kindness is priceless! The DSD loves you both! #ThankYou 🧡🖤🐏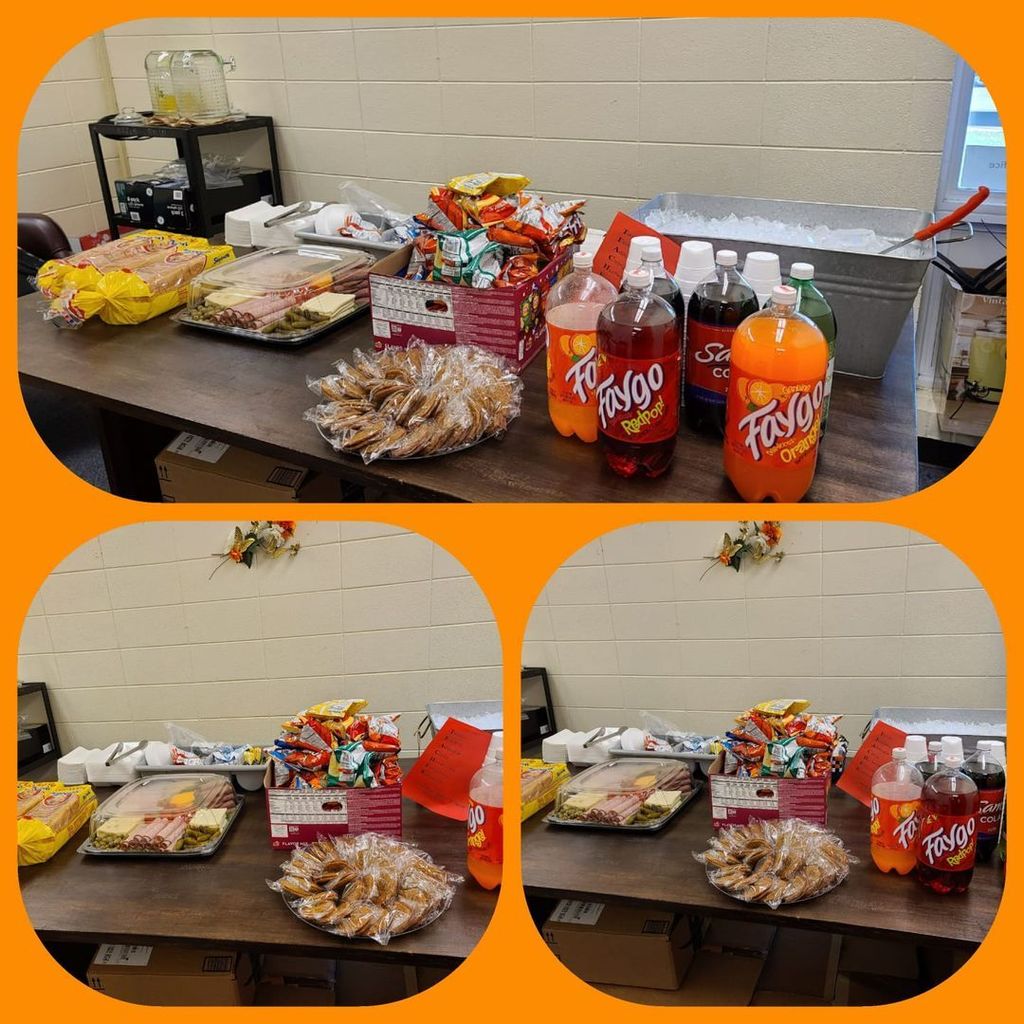 This week has been nothing short of AMAZING for the teachers and staff of DSD! A special SHOUT OUT to two ladies that made things happen and provided a delicious meal for the teachers and staff at DES and DHS Wednesday, May 5, 2021. Thank you Mrs. Arelesha Giles-Taylor and Mrs. Monica Johnson-Barnum for the fried chicken, dirty rice, loaded potatoes, pound cake, banana pudding, and drinks! Your kindness is priceless! The DSD loves you both! #ThankYou 🧡🖤🐏

Teacher's Appreciation Week ended today with our End of Year Celebration. The Dermott School District is very grateful and appreciative of our hard-working, dedicated, and committed teachers and staff. Thanks for all you do for our students and community. Your hard work does not go unnoticed. Special thanks to April Lindsey-Cantrell for her creative celebration, you ROCK!!!! #RamSquad #WeAreKindOfABigDeal 🧡🖤🐏

SPRING PICTURES ALL students that did not take Spring Pictures will be able to make up pictures Thursday, May 6, 2021. Pre K and Kindergarten students will be taking cap and gown pictures at this time as well. Put on those Ram smiles and dress to impress! #SpringPictures2K21 📷🧡🖤